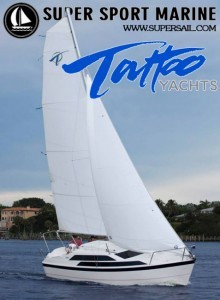 Tattoo 26 is a very popular cruising sailboat and is the only sailboat that sails great, trailers well and motors fast.
On the trailer at highway speed, you can visit great places that water-bound boats will never see.
Quick, stable and responsive, the revolutionary Tattoo 26 is the fastest and best handling of any of the trailerable cruising sailboats.
It is easy to sail, and easy to trailer to your favorite sailing waters. The Tattoo 26 can be stored on its trailer, rigged in just minutes, and launched at any ramp The Tattoo 26 offers high speed powering without compromising sailing performance. You can have the peace and quiet of sailing, or the fun of powering around at a good clip–over 20 mph. Unlike any other boat, it opens up a world of endless variety–sailing, swimming, fishing, diving, water skiing or just fooling around on the water. Its high speed under power lets you get to cruising waters that are out of reach for a conventional six mph sailboat.